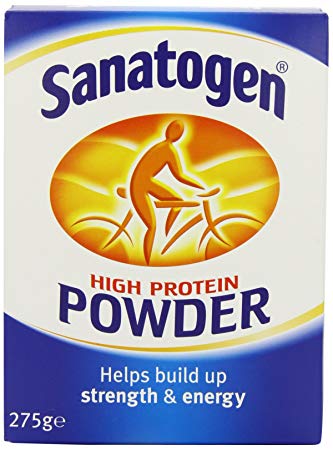 SANATOGEN HIGH PROTEIN POWDER 275G
Sanatogen High Protein Powder is an excellent source of high quality protein called casein. It can help you get back to full health and fitness as quickly as possible and its high-quality protein can help support the repair of damaged tissue.
Sanatogen High Protein Powder is easily absorbed by the body and is suitable for any age to help provide your body with the energy. It also may help to build up strength, especially after illness or injury, and can help expectant and nursing mothers and growing children.
Directions for the use of Sanatogen High Protein Powder:
Suggested daily intake
Two teaspoons three times a day (or three teaspoons twice a day) with or between meals. Sanatogen High Protein Powder works over a period of time. To achieve maximum benefit be sure to take it regularly.
To serve pour two tablespoons of:
Cold water into a mug or cup and add two teaspoons of powder with a dry spoon. Stir well.
Continue stirring and gradually add hot or cold water to taste (sugar, milk, coffee, cocoa or other flavour drink may also be added, as preferred).
Alternatively, just sprinkle powder onto cereals, soups, casseroles, puddings etc. Always reclose after use.
Sanatogen High Protein Powder may vary in consistency on mixing. This in no way affects the nutritional value of the product, and is characteristic of the ingredients used.
Sanatogen High Protein Powder contains the following ingredients:
Calcium caseinate, emulsifier (soybean lecithin)
Nutrition Information
Typical Values               per 100g   per 2 tsps
Energy                 1520kJ      105kJ

 


                           360Kcal     25Kcal 
Protein                    81g         5.5g
Carbohydrate           5.8g        0.4g

 


(of which sugars)
† 5.8g 0.4g
Fat                          1.2g       0.08g

 


(of which saturates)  0.74g      0.05g
Fibre                         0g          0g
Sodium                  140mg     9.6mg
Calcium                2100mg    145mg 
                                         *(18.12% RDA)
RDA is Recommended Daily Allowance
† Contains lactose only
Sanatogen High Protein Powder is a low fat and low carbohydrate food and is a rich source of protein and a source of calcium. The suggested daily intake of 6 teaspoons contains 33% of the recommended daily allowance for calcium.